All About Literacy
A 'How To' Book for ESL/EFL Teachers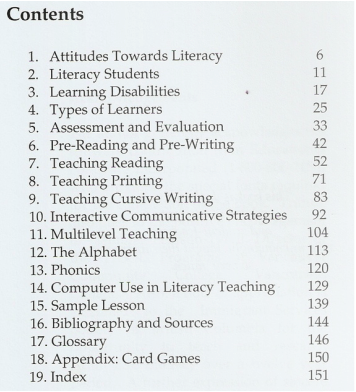 "Literacy is always last on the list!" complains Sandra Price-Hosie.
"Despite the efforts of the relatively few dedicated Literacy Level teachers, the teaching of beginner reading and writing skills in English is often neglected not only in ESL/EFL Schools but also in teacher training programs.
Literacy is the neglected area of education of new learners of English, it is 'always last on the list' in the areas of ESL and EFL teaching.
Literacy is often the least favoured class assignment chosen by teachers and it is often the last on budget lists, too. "It often seems," Price-Hosie says, "that those who have never had the opportunity to be taught to read and write, are forever to be penalized for this, instead of being given preferential treatment". In this book, the author addresses attitudes toward low level students and more importantly, she includes many TOOLS AND TEACHING TECHNIQUES designed to make teaching Literacy Level a genuinely rewarding experience for any ESL or EFL teacher.
---
---

​English Fundamentals is an extremely useful and copyable workbook for use with beginner English language students. This book gives practical exercises to reinforce learning from the very beginning of alphabet and numbers up to sentence building and composing paragraphs. It covers all the usual topics of beginner lessons from shopping to transportation, from emergencies to dining in a restaurant. The answers for all exercises are conveniently placed at the end of each unit so the workbook can also be used for self-study.​



Literacy classes are multilevel !
'All About Literacy' shows you various ways to organize your multi-level class.
​Here is one lesson progression example:


---


​Order your copy of English Fundamentals Workbook direct from
​ Sandra Price-Hosie
price-hosie@shaw.ca
---
Sandy's picture stories
​Sandy's Pictures Stories is a copyable book designed for teachers of teenagers and adults in Beginner Level English language classes. It features 11 classroom-tested picture card stories with word and phrase cards on topics which students find interesting and meaningful such as 'The Noisy Neighbor', 'Stopped by the Police' and 'Buying a Used Car'. Each unit in the 70-page book includes scrambled words, scrambled sentences, and cloze exercises to reinforce learning.

​